I won't lie to you, my favorite part about Christmas and the holiday season, in general, is the food. Food brings so much joy and happiness into my life and the food during the holidays is extra delicious. I enjoy making it. I enjoy eating it and what I love most is sharing it with the people I love.

When I started my health journey, my main concern was if I was going to have to give up one of my greatest passions. But as I got into it, I realized that the best food is the one that is good for you and you can make almost every recipe into a healthy one. So if you're worried that this holiday season is gonna cost your health, I got you. Here are 4 healthy Christmas dessert recipes you're gonna love. Just pick and choose.
Healthy Christmas Pudding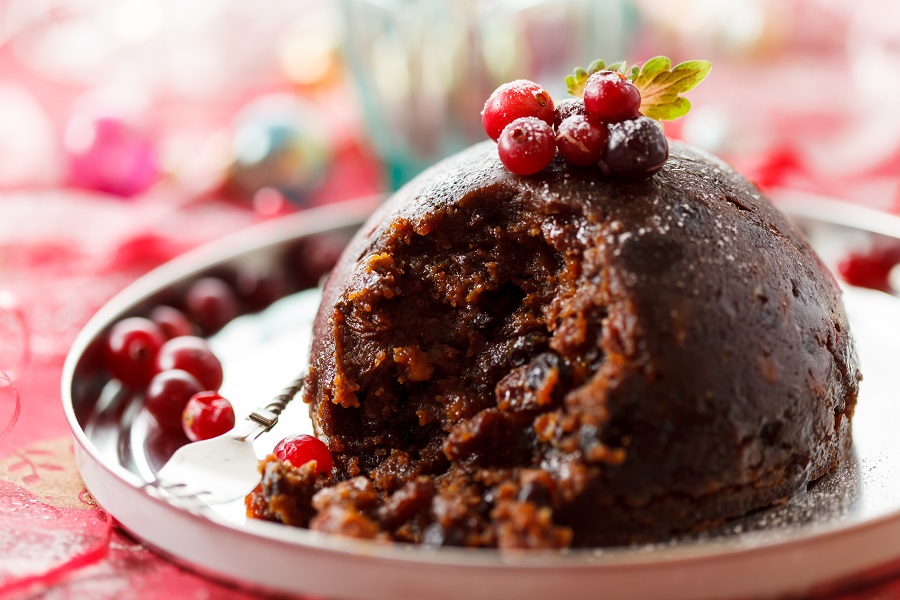 Ingredients:
60g dried figs
2 tbsp orange zest
50g flaxseed meal
2 tbsp dried sour cherries
1 tsp fresh ginger, grated
100g dried apricots
250g fresh dates pitted
170ml almond meal
1 tsp vanilla extract
¼ tsp allspice
1 tsp ground cinnamon
¼ tsp ground nutmeg
¼ tsp ground ginger
¼ cup of orange juice
1 tbsp coconut oil
100g raw organic cacao butter, chopped
100ml coconut cream
40g maple syrup, good quality
Directions:
Line 8 small 5cm (2-inch) diameter dariole molds or 50ml capacity small cups with plastic wrap. Combine all the ingredients, except for the orange juice and the coconut oil, in a food processor and blend until the mixture forms into a crumb-like consistency. Remove from the food processor, place in a large mixing bowl and add the orange juice and coconut oil. Knead the mixture until it comes together into a large ball. Divide the pudding mix into 8 portions and pack into the molds firmly. Refrigerate for 15 minutes to firm. Remove from the molds, peel off the plastic wrap and place on a tray. Meanwhile, to make the frosting, place the cacao butter in a bowl over a saucepan of boiling water and stir until completely melted. Remove from the heat and then mix in the coconut cream and maple syrup until well combined. Cool at room temperature to thicken the frosting, stirring occasionally. Spoon the frosting over the puddings and refrigerate for 10 to 15 minutes or until the frosting is firm. Decorate the puddings with some fresh raspberries and serve.
Keto Peanut Butter Cookies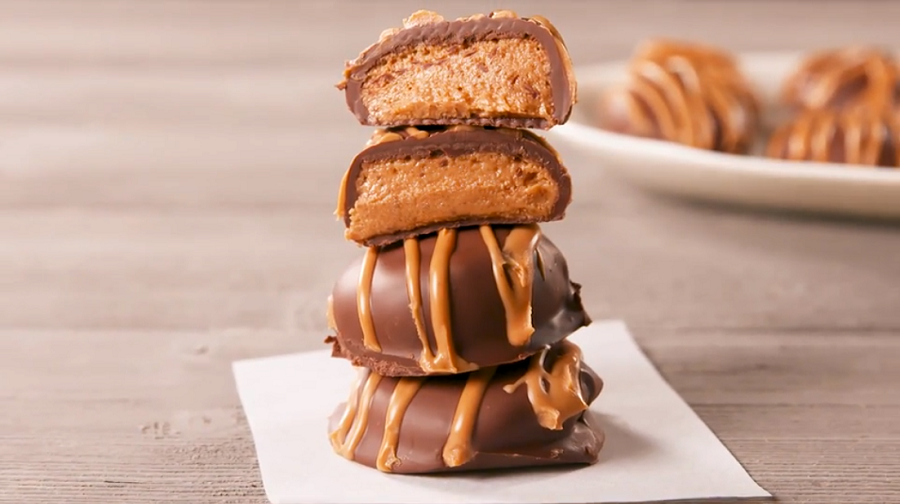 Ingredients:
1 1/2 c. smooth unsweetened peanut butter, melted (plus more for drizzling)
1 c. coconut flour
1/4 c. packed keto-friendly brown sugar, such as Swerve
1 tsp. pure vanilla extract
Pinch kosher salt
2 c. keto-friendly dark chocolate chips, such as Lily's, melted
1 tbsp. coconut oil
Directions:
In a medium bowl, combine peanut butter, coconut flour, coconut sugar, vanilla, and salt. Stir until smooth.
Line a baking sheet with parchment paper. Using a small cookie scoop, form mixture into rounds then press down lightly to flatten slightly and place on a baking sheet. Freeze until firm, about 1 hour.
In a medium bowl, whisk together melted chocolate and coconut oil.
Using a fork, dip peanut butter rounds in chocolate until fully coated then return to a baking sheet. Drizzle with more peanut butter then freeze it until chocolate sets, about 10 minutes.
Serve cold. Store any leftovers in the freezer.
Keto Chocolate Cake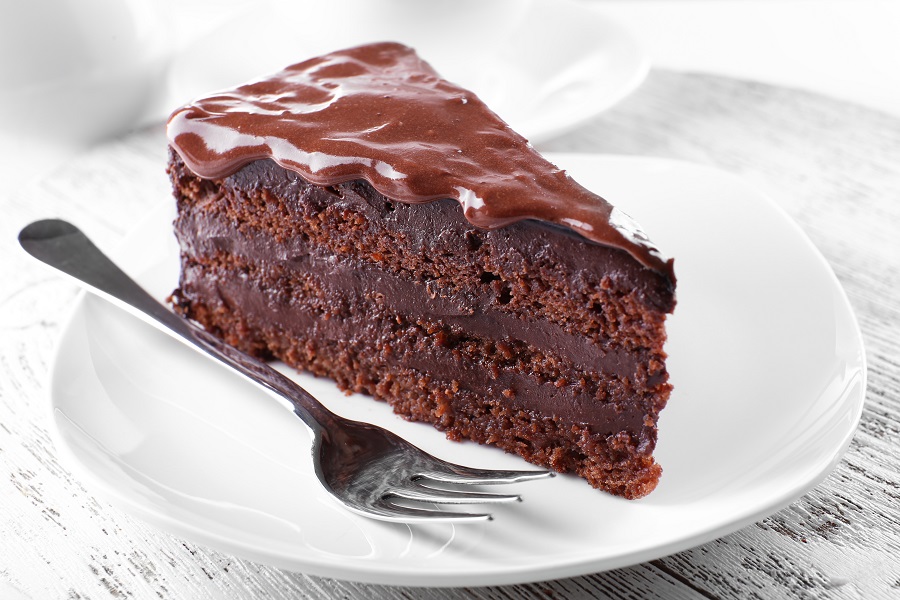 Cake
Cooking spray
1 1/2 c. almond flour
2/3 c. unsweetened cocoa powder
3/4 c. coconut flour
1/4 c. flaxseed meal
2 tsp. baking powder
2 tsp. baking soda
1 tsp. kosher salt
1/2 c. (1 stick) butter softened
3/4 c. keto-friendly granulated sugar (such as Swerve)
4 large eggs
1 tsp. pure vanilla extract
1 c. almond milk
1/3 c. strong brewed coffee
Buttercream
2 (8-oz.) blocks of cream cheese, softened
1/2 c. (1 stick) butter softened
3/4 c. keto-friendly powdered sugar (such as Swerve)
1/2 c. unsweetened cocoa powder
1/2 c. coconut flour
1/4 tsp. instant coffee powder
3/4 c. heavy cream
Pinch kosher salt
Directions:
Preheat oven to 350° and line two 8" pans with parchment and grease with cooking spray. In a large bowl, whisk together almond flour, cocoa powder, coconut flour, flaxseed meal, baking powder, baking soda, and salt.
In another large bowl, using a hand mixer, beat butter and Swerve together until light and fluffy. Add eggs, one at a time, then add vanilla. Add dry ingredients and mix until just combined then stir in milk and coffee.
Divide batter between prepared pans and bake until a toothpick inserted into the middle comes out clean 28 minutes. Let cool completely.
Make the frosting: In a large bowl, with a hand mixer, beat cream cheese and butter together until smooth. Add Swerve, cocoa powder, coconut flour, and instant coffee and beat until no lumps remain. Add cream and a pinch of salt and beat until combined.
Place one cake layer on serving platter or cake stand then spread a thick layer of buttercream on top. Repeat with remaining layers then frost sides of the cake.
Keep refrigerated until ready to serve.
Berry Pavlova with Lemon Curd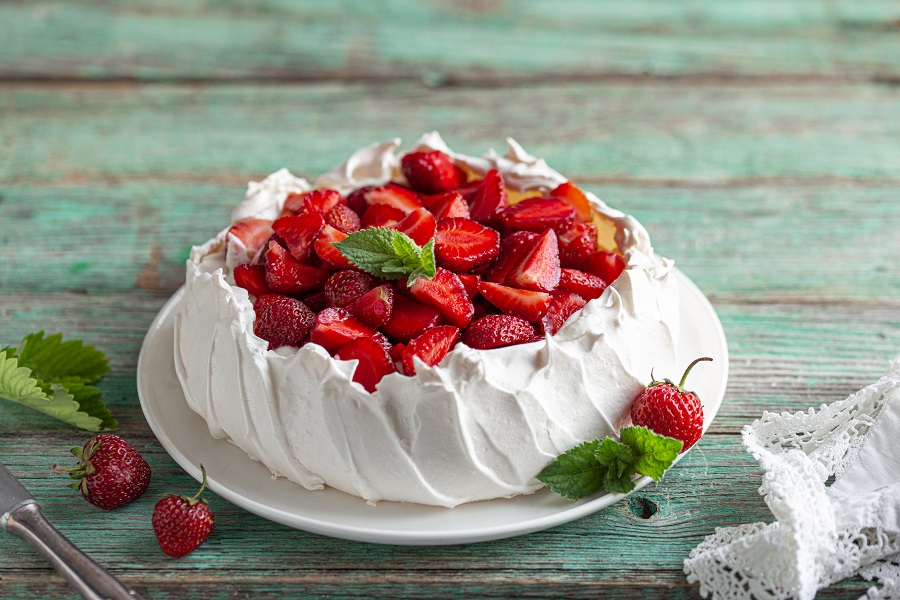 Meringues
300ml egg whites (roughly 8 large eggs)
2 ½ cups castor sugar
1 tsp lemon juice, apple cider vinegar or white vinegar
Lemon / Passionfruit Curd
8 egg yolks
1 cup raw castor sugar
4 lemons, zest & juice (250ml) or 250ml of passionfruit pulp
170g unsalted butter (or coconut oil for dairy-free option)
Topping:
Berries and other fruit
Directions:
Pre-heat oven to 150 degrees Celsius / 300 Fahrenheit (fan-forced oven).
Whip the egg whites on medium speed in a large clean bowl using a stand mixer or hand beaters.
Whip the egg whites until soft peaks form (2-3 minutes). Gradually add the sugar to the egg whites (whipping the whole time) by adding 1 tablespoon at a time, waiting 20-30 seconds between each addition. Once all the sugar is incorporated whip the mixture on medium speed for 6 minutes. Next, add the lemon juice or vinegar and beat for a further 3-4 minutes. The final egg white mixture should be really thick and glossy.
Line a large baking tray with baking paper.
Scoop the meringue into a large mound in the center of the tray.
Shape the meringue into a round shape on the tray and spread out lightly with a spatula.
Using the spatula around the outside of the meringue, create sweeping up motions to create a rounded and tall edge.
Place the tray into the preheated oven and lower the temperature to 110 degrees Celsius / 230 Fahrenheit (fan-forced oven).
Bake for 2 hours and 30 minutes.
Turn the oven off and leave the meringue in the oven with the door closed to completely cool. This step is very important, don't be tempted to remove the meringue any earlier. Leaving it overnight is a great way to ensure its completely cooled. Otherwise, 4-5 hours should be enough.
Remove the meringue from the oven once it is cool.

Curd:
While the meringue is cooking, let's make the curd. This is a great way to use the egg yolks that may otherwise go to waste!
In a medium saucepan whisk together the egg yolks, sugar, lemon zest and lemon juice (or passion fruit pulp).
Stir continuously over medium heat until the mixture becomes thick.
Add the chopped butter (or coconut oil) and stir to combine and until it's all melted and well incorporated.
Set aside to cool.

To Assemble:
Whip the cream and vanilla until stiff peaks form – whip on a low to medium speed or by hand, ensuring the cream stays smooth and doesn't curdle.
Fold the mascarpone (or vanilla custard or thick yogurt) into the whipped cream.
Dollop the vanilla cream over the meringue.
Top with the fresh berries, curd, mint and crushed freeze-dried berries (optional) -OR- the fresh mango, passionfruit curd, fresh passion fruit, coconut and lime zest -OR- the fresh mango, passionfruit curd, fresh raspberries, and fresh passionfruit.