Posted on February 20 2019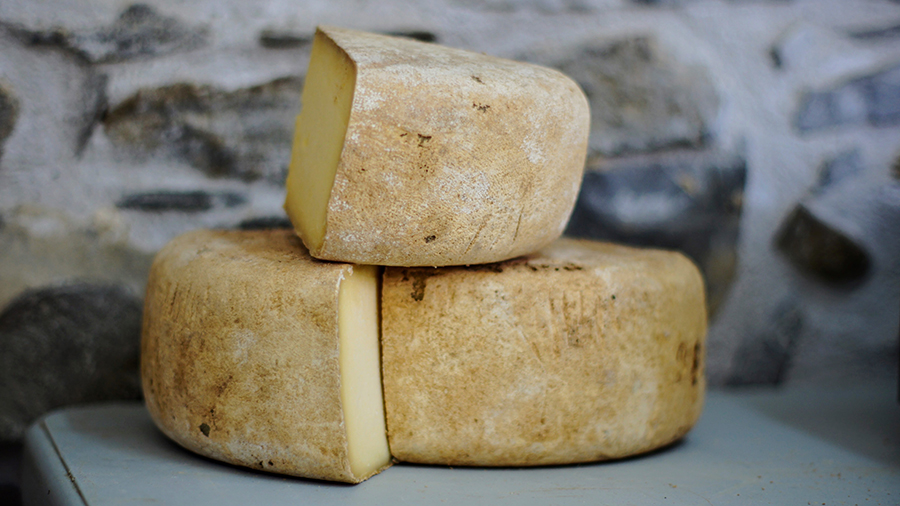 Over the last year, the keto diet has skyrocketed in popularity, probably for one very distinct reason: it encourages you to eat fatty foods. The only major caveat is that you have to keep your carb intake low. Offsetting this often-difficult task, however, is the keto diet's allowance of another beloved food group: dairy. Most cheeses are low in carbs, making them perfectly acceptable for the keto meal plan. The same goes for fatty dairy foods like butter and heavy cream, which almost seems too good to be true. A diet that gives you the thumbs-up when you eat butter? It's not hard to see how it caught on and spread like wildfire.

Although you won't be able to enjoy the glorious combination that is cheese and bread (bye-bye, buttered toast and bagels with cream cheese) if you've gone keto, you'll still be able to indulge in plenty of decadent recipes. Click through to see which dairy products you can eat on the keto diet, along with some keto-friendly recipe ideas.
Muenster Cheese
At just 0.3 grams of carbs per ounce, Muenster cheese is one of the best dairy options for the keto diet. Enjoy it in this mac and cheese recipe, which you can make keto-friendly by swapping out the pasta for cauliflower.
Blue Cheese
No need to kick stinky blue cheese out of your fridge just because you're on the keto diet. One ounce of blue cheese has just 0.7 grams of carbs. That means you get to continue pairing your fresh salads and veggies with chunky blue cheese dressing.
Butter
Because it's so high in fat, butter is one of the best dairy foods for the keto diet. It's easy to sneak into pretty much any dish, but you can take your butter game to the next level by making this supereasy and decadent herb butter.

Cheddar Cheese
A world without cheddar cheese is a bleak one, so thank goodness it only has 0.4 grams of carbs per ounce, making it perfectly acceptable on the keto diet. Get your fix with this healthy cheddar-cauliflower soup.
Brie
Soft and gooey brie only has 0.1 grams of carbs per ounce. That means you can enjoy all the baked brie your dairy-loving heart desires and still be keto-compliant.
Heavy Cream
Full-fat heavy cream is a staple in the keto diet, since it replaces milk, half-and-half, and other lighter creams. You can get your daily intake by adding it to coffee or whipping up Chrissy favorite scrambled eggs.
Mozzarella
Not only is mozzarella low in carbs — just 0.6 grams per ounce — but, as a main component of caprese salad, it's also one of the most refreshing ways to enjoy dairy.
Gouda
Smoky Gouda is one of the most distinct cheeses, and lucky for keto dieters, it's low in carbs. Add it to this insanely rich cheese sauce, but just make sure to pair it with something keto-friendly.
Cream Cheese
Just because bagels are a big no-no on the keto diet doesn't mean you have to give up cream cheese too. You can still enjoy lox and cream cheese — just swap out the bread for lettuce wraps or cucumber slices.
Ghee
Ghee is clarified butter, or butter that's been simmered down to remove all water and milk solids. In other words, it's pure butter fat, making it ideal for those on the keto diet. Use it in this roasted chicken recipe for extrajuicy results.
Swiss Cheese
At 1.5 grams of carbs per ounce, Swiss cheese is a little more carb-heavy than other cheeses. You can still enjoy it in moderation, though, especially when it's paired with healthy cauliflower.
Burrata
Cold, creamy, and a cheese that melts in your mouth, burrata is one of the most pleasurable eating experiences you can have. Lucky for you, it has zero grams of carbs, so gorge all you want! Impress your friends at your next dinner party by making these burrata-stuffed squash blossoms.
Sour Cream
You can't have Mexican food without topping it with a dollop of sour cream — it's just unnatural. Scoop it onto these chicken enchiladas, but be conservative with the tortillas.
Parmesan
Going low- to no-carb might be the biggest struggle of the keto diet for pasta-lovers, so you'll be happy to know that you can at least still have your beloved Parmesan. Instead of pasta, however, you'll have to grate it over zoodles or eggplant.

Cottage Cheese
While you can still enjoy cottage cheese on the keto diet, just be mindful of how much you're consuming since it contains four grams of carbs per half cup. Instead of eating it by the spoonful, try topping it over fruit or avocados or mixing it into ranch dressing.
Author: Popsugar